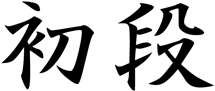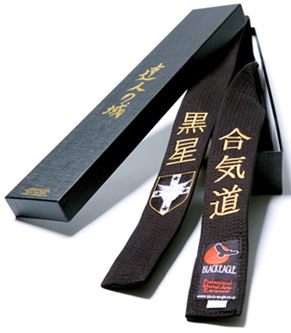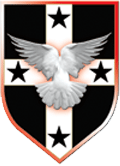 Grading Structure
The Ten Step Programme.
The minimum age to begin the Black Star Aikido Grading Programme is aged 12.
WHITE (20 HOURS)
YELLOW (40 HOURS)
ORANGE (60 HOURS)
GREEN (80 HOURS)
BLUE (100 HOURS)
RED (100 HOURS)
PURPLE (100 HOURS)
BROWN (100 HOURS)
BROWN PLUS (100 HOURS)
BLACK (100 HOURS)
In order to be eligible to grade the student should:
Attain a specified number of practice hours
Obtain their Instructors permission to Grade
ALL students who attend Black Star Aikido Courses and Seminars will be credited with "double hours" practice time, as they have shown additional commitment and support to the Organisation.
On successful completion of "The Test" the student will receive a Certificate and be awarded their new coloured belt.

Black Star Aikido
Black Belt Ceremony
Over the years, we at Black Star Aikido have come to recognise that there are groups of students who strive to take this martial art to its ultimate level. These are students for whom it becomes a way of life, where the necessary physical and mental disciplines are taken to such a high level that few are able to achieve.
These people are Special.
For this reason a unique black belt has been made. This special belt displays the Japanese Kanji, the characters for Black Star Aikido, in gold embroidery.
The Organisation badge is also embroidered onto this belt with a distinctive gold shield, once again marking this Special achievement.
This belt is presented in a black linen finished box, on the lid of which is embossed in gold the Kanji for "MASTERCLASS"
Those students who attain a Black Star Aikido black belt certainly know they've earned it by putting in years of hard work and study and passing the infamous "black belt test".